Early Massachusetts Counties
Updated: Feb 4, 2019
When searching for records of ancestors from New England, it's important to know what the county was called at the time. County names and boundaries have changed. This is a summary of the changes.
Plymouth, Massachusetts was the second established English settlement in America, founded by the Pilgrims in 1620. Ten years later, in 1630, the Puritans followed and formed The Massachusetts Bay Colony in the vicinity of present day Boston. In its early days of colonization, the settlers relied on fishing, farming, as well as trade with Europe for survival. People who didn't agree with the Puritan beliefs were banished and left Massachusetts, forming other colonies. For example, Roger Williams was banished and founded the colony of Rhode Island. In 1691, the Plymouth Colony and Massachusetts Bay Colony were joined to form Massachusetts.
There were four counties when the Massachusetts Bay Colony was created. They were:
(Old) Norfolk County, created in 1643, became New Hampshire in 1680 (with the exception of Salisbury and Haverhill, which were added to Essex County)

Middlesex County (Cambridge and Lowell) created in 1643

Essex County (Salem and Lawrence) created in 1643

Suffolk County (Boston) created in 1643

Norfolk County (Dedham) formed from Suffolk County in 1793
As they expanded westward, more counties were added:
Hampshire County (Northampton) created in 1662

Worcester County (Worcester) formed from Hampshire, Middlesex, and Suffolk Counties in 1732

Berkshire County (Pittsfield) formed from Hampshire County in 1761

Franklin County (Greenfield) formed from Hampshire County in 1811

Hampden County (Springfield) formed from Hampshire County in 1812

Dukes County (Edgartown), formerly part of New York, until 1691

Nantucket County (Nantucket) formed from Dukes (formerly Hampshire) in 1695
The Plymouth Colony was added in 1685: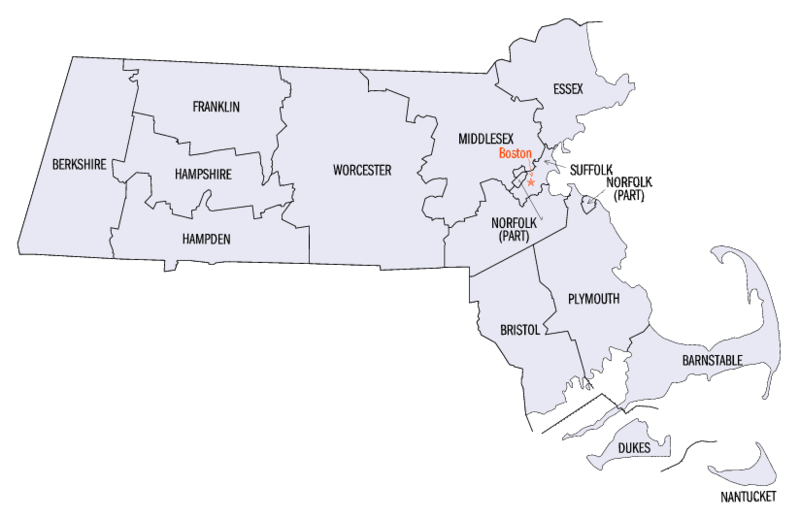 Plymouth County (Plymouth and Brockton) created in 1685

Bristol County (Taunton) created in 1685

Barnstable County (Barnstable) created in 1685
Map courtesy of AnonMoos
If you'd like to read more about the formation of Massachusetts counties, see Historical Data Relating to Counties, cities, towns in Massachusetts.
Click here to see more Massachusetts genealogy resources.